Yoplait, the Susan G. Komen Breast Cancer Foundation and SELF Magazine announce they have selected Christine Smith, Founder of Northwest Hope and Healing, as one of 25 Yoplait Champions for 2006.
Christine was selected for clearly demonstrating her strong and sustained commitment to the breast cancer cause and continues to impact others' lives in the community, after beating breast cancer in 2000. Christine started a remarkable organization called Northwest Hope and Healing and shows how personal tragedy can be turned into something positive.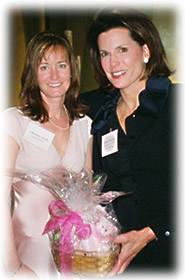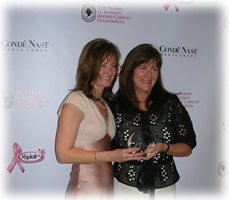 Shown at left: Christine meets Nancy Brinker, founder of Susan G. Komen Breast Cancer Foundation, and presents a Longaberger Healing Basket.
Shown at right: Christine accepts her award.