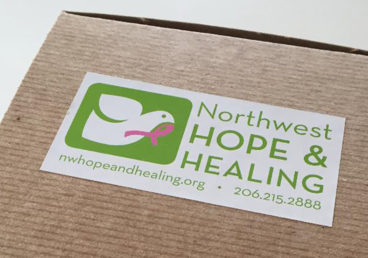 Northwest Hope and Healing's signature "Healing Boxes" are delivered, at no charge, to patients who are newly diagnosed with breast or gynecologic cancer at all Swedish Cancer Institute campuses.
Our Healing Boxes are designed to offer a warm gesture of comfort and support to local patients undergoing cancer treatment. They send a message: you are not alone, your community cares—all while offering practical, beautiful items that can be used during treatment. Each Gift Box contains a selection of the following items:*
A pashmina style scarf to use as a warm wrap, head covering, or scarf
Soft, fuzzy slipper socks
Paraben free, unscented hand lotion
Paraben free, unscented lip balm
A beautiful journal
Herbal or green tea
Hand made note cards
*On average, each Healing Box contains five of these items.
Would you or a loved one benefit from a Healing Box? If you are a Washington State Resident, Fill out the Healing Box Request form below:

Healing Boxes Take a Village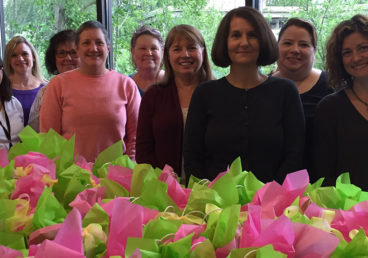 It all starts with donors—companies and individuals who can provide items in bulk such as fuzzy socks, scarves, lotions, tea, or other thoughtful gifts that help patients feel loved and cared for during a difficult time.
The next step is a "healing box assembly party," where your company, organization, or a group of friends gets together to pack the donated items into our boxes.
Last but not least, Gift Boxes are placed in the hands of patients undergoing treatment at Swedish Cancer Center by their social worker, who also has the authority to offer them a financial assistance grant from our organization if needed.
Help Us Make a Difference
Individuals can organize a "Healing Box Drive" to collect items. Contact info@nwhopeandhealing.org and we'll get you set up.
Businesses, Clubs, and Community Groups can host a "Healing Box Assembly Party." Whether you use this as a team-building event, a volunteer effort, or a way to do something wonderful in your own community, we'll help you engage your staff, members, or friends in collecting gift box items, we'll deliver all the packaging and supplies—all you have to do is schedule the party! Contact info@nwhopeandhealing.org and we'll get started together.
Corporate Sponsors can help us by donating an item in bulk for our Healing Boxes. Contact us at info@nwhopeandhealing.org for more information.
Thank you to our most recent Healing Box efforts by Expedia and DocuSign!
No time to organize a Healing Box Drive? Make a donation instead.