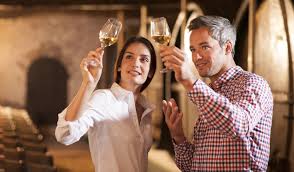 Mark Your Calendars for our Fall Wine Tasting Fundraiser!
Thursday November 16, 2017
at Melrose Market on Capitol Hill
Last year's wine tasting event at Melrose Market Studios received such rave reviews that we're returning there this year.
Guests enjoyed local wine and spirits, along with passed his d'oeuvres and a table full of delectable small bites as they bid on awesome auction packages and purchased raffle tickets—all in support of local women who are undergoing treatment at the Swedish Cancer Institute for breast or gynecologic cancer.
As one of Northwest Hope and Healing's three major annual fundraisers, this event enables us to provide these women with immediate financial assistance—funds that can be applied towards everyday living expenses such as childcare or groceries, reliable transportation and/or emergency rent. Some of these women would be unable to make an electric bill payment or even put food on the table for their children, were it not for our support.
Our committee is hard at work to make this year's event more exciting than ever, so you definitely won't want to miss it.
Mark your calendar now, and stay tuned for ticket purchase details!
If you'd like to participate by joining the committee, email our interim Executive Director, Karyn Blasi Hellar — she'd love to have your help!